On the 10th of May, the Odyssey team attended the Affiliate Huddle conference in London. Jelle Oskam, Odyssey co-founder and Global Affiliate Manager at adidas, shared his thoughts on the rapidly changing field of affiliate marketing. During Affiliate Blogger Sessions 2018, he kicked off the event with the following statement: "Five years from now, affiliate marketing will have become the #1 traffic driver". At Affiliate Huddle we explored the reasoning behind this daring statement that is all about handling the situation by using good old common sense.
Common sense is essential in any field of online marketing. If we take a closer look at the way traffic generation is organized, Google and Facebook are the two incontestable big actors. Both parties possess an incredible amount of data. While this raises concerns on its own, it also means organisations are predominantly -if not entirely- dependent on these big players for their traffic generation. For instance, if a company aims to grow its business consistently over the next two years, this means growth is reliant on rules set by an external organisation. It's not hard to see that this is an undesirable situation for all associated players.
To illustrate the extent to which organisations are dependent on Google, the Merkle Digital Marketing Report 2017 showed that brand cost-per-click went up with 23% in Q4. It might be ignorant to think that these numbers are only the result of supply and demand. Rather, it seems to be a result of Google's algorithm taking advantage of its strong position. Along these lines, Google doesn't seem to be in a rush with regard to the roll-out of Google Attribution. The reason behind this is simple: If many conversions occur with the search channel being the last click, then why would the most powerful player start attributing commissions differently? If this would happen, channels positioned earlier on in the customer journey become more important, resulting in loss of revenue for Google.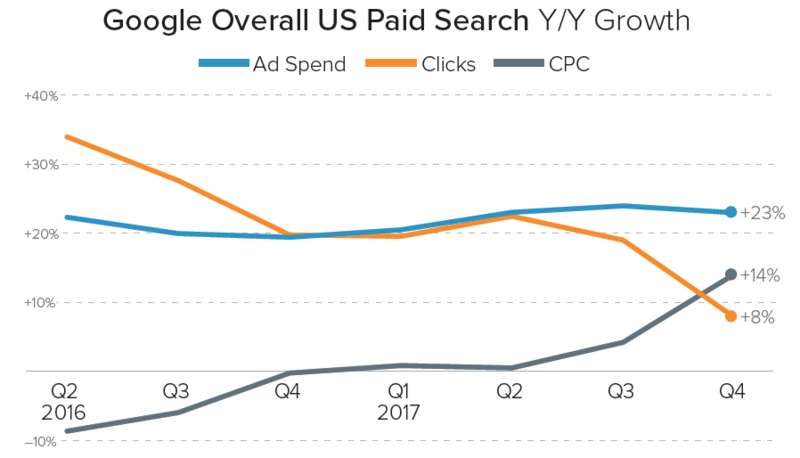 While it's a challenge to escape the powerful giants, it remains crucial to observe their role in the customer journey. Looking at the entire customer journey, we see that Facebook and Google take on a leading position. However, the role they fulfil is not as dominant as one would expect from the size of the allocated budget. From this point of view, advertisers should be looking for alternative traffic drivers. Consequently, this will point in a direction of a more transparent, straightforward relationship between publisher and advertiser. As an industry-wide shift is taking place, it becomes increasingly important to measure the incremental value of all touch points within the customer journey. We will cover more of these developments in the next blog posts!